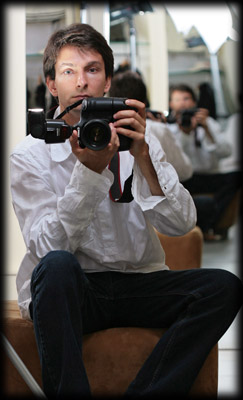 Vladimir Khomyakov b.1978, Kiev, Ukraine.
Graduated from National Technical University of Ukraine "Kiev Polytechnic Institute" electroenergetic department with Master's degree of electromechanics. Had studied in Germany for a 6 months. Worked a few years as an engineer.
Since 2000 the photography is a priority of my professional activity. And the last 2 years I've been working as a professional photographer.
From February 2006 I'm a staff photographer in the International Media Publishing House («The Ideal house», «Wellness», «Bon appetit!» («Kushaty podano!»), «Histories of successful companies and people» magazines).
The subjects of editions cover almost all fields of photography so my workflow includes:
covers, public and famous people; portraits in an interior, studio as well as outdoor portraits, fashion story, procedures in the beauty salons, sport and fitness-clubs photosessions, interior photography (private, designer, clubs, restaurants); still life art photography, designer compositions, installations; catalogue and subject photography (goods, product, cosmetic, jewelry and bijouterie); advertising photography, food photography, and also reporting shooting (presentations, evening-parties), macro photography, landscape photography. All mentioned photos are mainly based on out-studio photo-sessions approach.
At the moment my interests focus on advertising photography, interior photography, food photography, catalogue and still life photography as well as macro and art photography.
2004-2006 participating in Kiev photo-exhibitions and competitions, 2006 personal exhibitions-sales, 2006 prize-winner of National Geographic international photo contest (May of 2006г. National Geographic Ukraine).
I work mainly with the Canon professional equipment (digital single-lens reflex camera DSLR and L-optics, although I have a film camera). Also I use studio lighting system from Hyundae Photonics.
I'm familiar with a technical equipment it seems the higher technical education makes itself felt. I'm always up on the latest technologies and developments. Experiments and non-standard problems are what I used to deal with.
In a digital photography I'm an expert not only in both «hardware» and «glass» but computer image post- processing is well-known for me too. I used to deal with whole photographic process from the shot actual (when the shutter button is pressed) up to final print.
My photos will tell more "about me".